It's that time of year again. You know, the time when you start thinking of all you want to do differently beginning January first. I've set many yearly goals, but every year I resolve to get some biceps. I know, very spiritual. Well, it hasn't happened yet, and my six year old nephew has bigger guns than I do. So before I jump into what I need to change this year, how about some resolutions for others?
BRAD AND ANGELINA
Yes, they have some moral issues to get straight. And yes, they are blazing a trail for humanitarian efforts that no one can deny. But frankly I just wish they would resolve to quit being so disgustingly beautiful. Enough already. Seriously, you're like freaks of nature. Beautiful, nearly perfect nature.
TOM CRUISE
Where to start? May '07 hold no more couch jumping for you. And Tommy, we are NOT here by way of aliens. Puh-lease. Someone send this boy a Bible.
PLUTO
Poor Pluto got demoted as a planet this year. Pluto, resolve to rise from the ashes and just be yourself. You will never be just a mere "dwarf planet" to me.
DICK CHENEY
No more hunting. In the business you're in, you need all the friends you can get. And shooting them? Not a real people pleaser.
MEL GIBSON
Lay off the sauce and enroll in some anger management. But do keep making some thought provoking movies. Integrity on screen
AND
off.
SADDAM HUSSEIN
Sir, your number is up. Admit some guilt. It does wonders for the soul.
TACO BELL
2006 was the year of the tainted Chalupa. I haven't had an artery clogging bean burrito (minus the onions) in nearly two months. You are on this earth to dish out meals with astronomical calorie contents--not Ecoli. Resolve to safely provide your cheesy, beany, meaty goodness without ill effects. I long for the day we are reunited.
BRIT AND LINDSAY
Girls...tsk, tsk, tsk. Resolve to wear underwear on a regular basis. Like daily.
PRESIDENT BUSH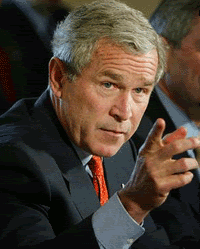 Sir, we have a serious epidemic on our hands. It's time to get serious about an issue of global proportions (refer to Brit and Lindsay). We need you to enact a Panty Policy. Some Bloomer By-laws? Lingerie Legislation? Whatever it takes, Mr. President, we cannot let this growing trend to continue. First Hollywood starlets encourage unrealistic skinniness, prompting women and girls everywhere to eat nothing but lettuce and the occasional saltine. NOW the underwear situation (or lack of it). Call in the National Guard, sir, because I for one, believe you should resolve to stop this revealing new trend.
And now for me.
You know a funny thing happened to me this week--I had a deep thought. (It doesn't happen often.) I was thinking about New Year's resolutions, and it occurred to me that I have never asked God what I should resolve to do differently for the coming year. God and I have a big heart to heart every December 31st. It's our tradition. I usually sit out on my back porch on New Year's Eve at some point with a blanket (it's cold), a candle (gotta see), a notebook (prayer journaling),and my cell phone (cause sometimes I lock myself out) and just get on my face so to speak with God. It is my most significant time with Him all year.
Where do You want me to go? Where do You want me to grow? How are you going to help me with my new goals?
But this year I'm going to ask God to show me what my goals should be. I'm sure He can come up with something better than my goal for '05--to drink more water. Or my goal for '04--to eat more cookies (I wanted something I could finally achieve).
What are your goals this year? I encourage you to consider and pray upon Jeremiah 29:11
"For I know the plans I have for you," declares the Lord. "Plans to
prosper you and not to harm you, plans to give you hope and a future."
So in this time of new goals--weight loss, organization, discipline, more exercise, better quiet times, etc, ask the Lord what he would have you to achieve, to work for. His plans for you include so much more. Prosperity. Hope. A future. I want in on that, don't you?
Here's wishing you a God-inspired 2007. And Britney and Lindsay, one word for you ladies: Hanes.
Much Love,
Jen