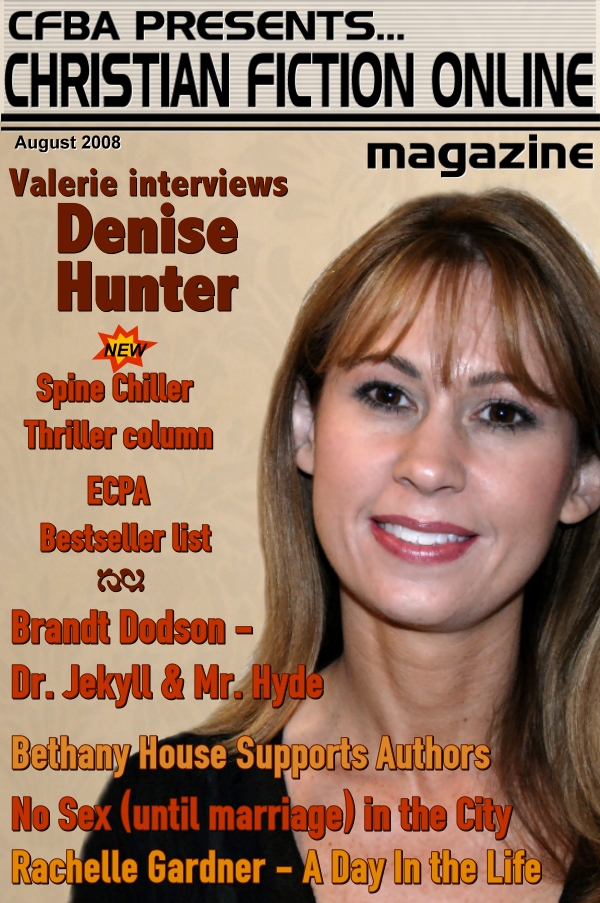 The Christian Fiction Online Magazine
premiered yesterday. I have been anxiously awaiting this magazine. Editor
Michelle Sutton
has put together content that is just not to be believed. You could spend the month from now until the next issues comes out going through the multitude of articles and
columns contained in The Christian Fiction Online Magazine. She and
Bonnie Calhoun
have collected top names in Christian publishing.
1. An author interview with
Robert Liparulo
,
2. book reviews
This month some topnotch historicals:
The Begotten
by
Lisa Tawn Bergren
(Berkley);
Wagered Heart
by
Robin Lee Hatcher
; and
A Mending At The Edge
by
Jane Kirkpatrick
.
3. a devotional
4. a column by the literary agency Hartline with Joyce Hart leading it
off
5. Allen Arnold of Thomas Nelson contributed to the Publishers Corner
6. a column by Kristen Billerbeck of the Ashley Stockindale fame.
Oh my! There are too many things to enumerate: articles on ACFW Happenings, Publicity, writing topics, short stories, POD info, and of course, (This is a quote from Terry Burns) "no premier issue would be complete without Chip MacGregor opening upthe top of his head to see what comes out."
The main pages are called BEST, BUZZ, BERSERK, BRILLIANT, BIZ, AND BLITZ.
If you like to read, go see the teen column and several columns on fiction today. Bookmark the website http://www.christianfictiononlinemagazine.com/
I keep neglecting the work I should be doing and going back for another peek.
Hope you jump into this Ezine and have a totally awesome experience.